Status Report - Know your on-time rate and performance status tailored for business units and processes.
Set up a status report
What is a status report?
A status report informs you about the performance status of your controls with KPIs such as on-time rate and the number of complete/pending/overdue controls.
You can quickly filter out the performance status for a specific period, a certain control or organizational unit of interest. It is a report tailor-made for each stakeholder, based on which you can take necessary interventions.
Quickstart: Create your first status report
Go to Reports in the navigation menu.
Click on "Status" under the Standard reports section.
Choose the required timeframe in the upper right corner.
Tip: You can choose between two types of time periods. For example, a monthly control for May is due on June 5. Likewise, the control for June is due on July 5.
If

is chosen, the time filter includes controls that are due in June, therefore, the control for May.
If

is chosen, the time filter includes controls that are performed for June.
4. Choose the content to be reported by simply entering keywords in the search bar. Filter out control programs, controls, responsibles and/or entities etc. of interest.
You can filter by tags you have assigned when creating the controls, e.g. "detective".

5. Set your individual structure of report table below. Click on

above the table.

Change the content to be displayed by clicking on e.g. "Standard: Program" and selecting an information type from the dropdown list. Optionally, add further layers by clicking on "Add".
After clicking on "OK", selected content will appear in a hierarchical structure in the table.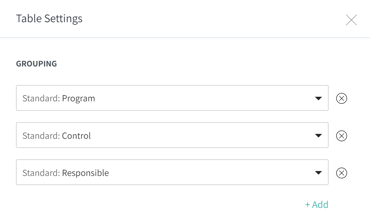 Cautious:
You need to label your controls with tags before sending them out, which you can use to filter out content in reports. Find out
here
how to create tags.
Learn more:
Want to set a dynamic time filter so you don't need to adjust manually?