Gain an overview of all control activities. Observe the performance status and take necessary interventions such as sending reminders and reassigning.


Access the activities list of a specific program:
Click on the specific program under the tab "Your programs" on your Dashboard or open a program in the control management module.
Click on in the upper right corner, as illustrated below:

You will see an overview over the controls and activities in the program. Set the required time filter in the upper right corner, as illustrated below.
You can click on a control title to see the activity log on the specific control.
Filter your activities with terms:
1. Follow step 1 & 2 as explained above.
2. Once you have accessed your activities, use the search bar to filter the controls by typing your terms. This could for example be "Period", "Company Code" etc.
Note! Once you have adjusted the view or filtered the control(s) with terms, it will automatically be saved on the control activities page.
Access the activities list for all controls in your Impero environment:
Go to Dashboard.
Click on in the upper right corner.
Tip: You can search the activity list by typing in different search criteria in the search field.
You can now choose between the following interventions:
Select/deselect all or selected controls by clicking the checkbox in the upper left corner next to "Program".
Send reminder

Reassign

Reopen

Archive

Export


Need to see archived controls?
The activity list will by default display "Active". Click "Adjust view" and select "Archive" to see your archived controls.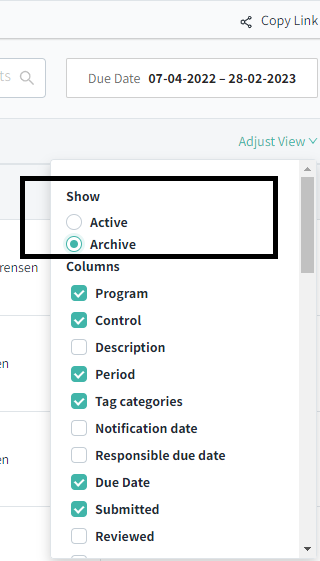 You now have a list of all archived controls!

Learn more
Do you need to archive control activity? Go to How do I archive control activity?
Need to re-assign a control? Go to Re-assign a control