What is push report?
Pre-defined reports can be automatically sent out to various stakeholders on a periodic basis.
You receive an overview of key insights on control performance via e-mail and a link to the full report in Impero. You save time in preparing and delivering reports.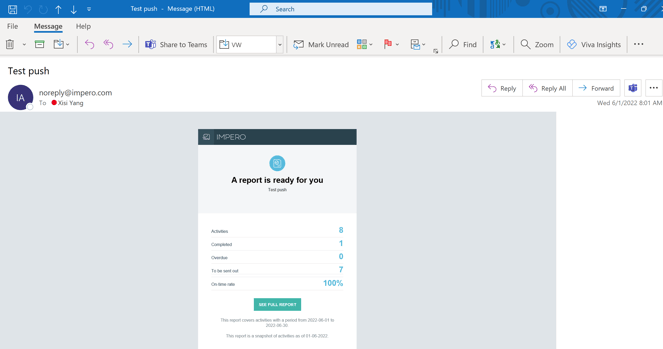 Quickstart: Set up your first push report
Create the report you want using the "Standard reports" section. Learn more here.
Click "Save as" in the top right corner.
A new window will open. You can now create a push report by clicking "Push report" in the top right corner.
Fill up the details for the report:

Name - create the name for the report
Recipients - select stakeholder(s) that will receive the report
Message - add a personalized message for the recipient(s). This will form the body of the e-mail along with a standard message
Schedule the control as required and click "OK"
Note: You must have either role Administrator or Report manager to create a push report. Learn more here.