The control log can provide you with a complete overview of your audit trail.

How can i get an overview of my audit trail?
You can access the control log through latest activities or through your programs.
Latest activities:
You can access the control log by clicking on the control if it is displayed under "Latest activities" on your Dashboard. When clicking on the control, the control log will be available in the right side and in the bottom. Here you can see the process info of the control which implies: Date the control was received, Due date, Overdue and Assignment completed.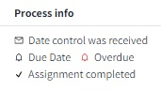 Your programs:
You can also access the control log by clicking on the specific program under the tab "Your programs" on your Dashboard. Click on "View activities" in the upper right corner. You will see an overview over the controls and activities in the program. You can click on a control title to see the activity log on the specific control.
Learn more:
Do you want an overview of program activities? Go to Monitor controls and take interventions: How can i access the control results list?